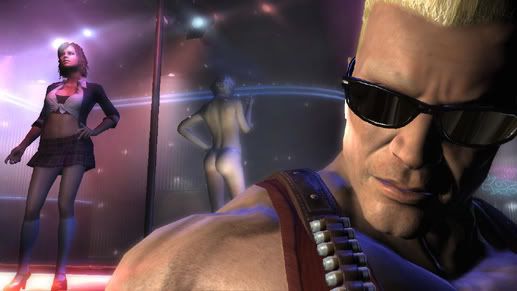 Along with the imaginary Phantom console, Duke Nukem Forever is one of the biggest jokes in the history of gaming. It's been the biggest piece of vaporware in history for years.
If a rumor making the rounds of the 'net is true, that may be coming to an end. According to anonymous sources who spoke to Kotaku, Borderlands developer Gearbox is planning to finish development on the long-awaited title. One source even stated that a playable demo would be available later this year.
Take Two Interactive retains the publishing rights to the title, but they refused to comment on the status of the Duke Nukem Forever Project or whether it had in fact landed at Gearbox. 3D Realms founder George Broussard refused to comment on the situation, as did Gearbox President Randy Pitchford. However, Pitchford did say that he might be better able to clarify the situation at next month's Penny Arcade Expo.
Obviously, any rumor involving Duke Nuke Forever at this point is purely speculation, especially given how other rumors about the game have panned out.