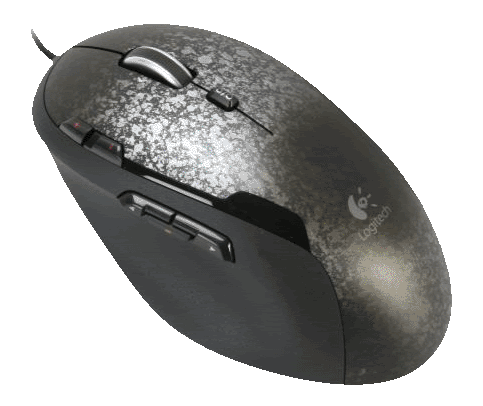 So here we have the Logitech G500 10 button Optical Gaming Mouse. I actually own one of these, replacing my dead 5 button Microsoft optical mouse. Now first of all, I always thought there were just two types of Mice. Mouses. Meece. The very dated Tracking Ball types, and The smoother more precise optical mice. And it didn't matter which one in either group you got, they would work the exact same. Oh how wrong I was. For the last 7 or 8 YEARS I used the same Microsoft 5 button optical mouse and thought if it ever died, I'd just buy another.
Well it died, just after Battlefield Bad Company 2 came out and, of course, I went to buy the same mouse. I couldn't find one and got talked into buying this G500 at Best Buy for $80. After setting it up and getting it working which took about 4 minutes, 20 if you count me struggling to open it, I gave it a test run in Bad Company 2. It was extremely difficult for me to get used to at first, It has odd angles, The 'Back and Forwards' buttons on either side are both on one side, along with 3 more buttons. After a day I got used to it and it has helped my precision in all games 100%
I used two of the 5 buttons on my previous mouse mainly to go back a page, or forward a page in the browser (Thumb and ring finger) On the G500 though, I can do both with my thumb. I also used those two buttons to Reload and other Miscellaneous actions in-game, now easier to do after spending a day or two with the mouse. Remember I used the same mouse for nearly a decade so I had a tough transition. There are two buttons just to the left of the Left click that change the sensitivity Up and Down on the fly... (Slow, Medium, Mach 1) And the scroll wheel is great. And to browse annoyingly long forum pages or the new Picture layout in Google image searching, you can hit the square button below the mouse wheel and it will have virtually NO resistance. You could give it a flick and it'll spin for half a minute.
Another nice feature that comes with the mouse is a little case filled with small weights. You can add up to 27 Grams of weight to the mouse, or just about any amount up to 27g. While that doesn't sound like much, it does make a difference when you're lining up your crosshair on something that's 2 pixels wide, which this mouse excels at anyway with it's 200 to 5700 adjustable DPI. (How many points per square inch you can get a click off at) The mouse has on-board memory to actually save your settings onto the mouse itself, the 10 buttons are programmable, and the best part is, You can now get this mouse for a fairly decent price.
If you're serious about gaming then this is a great mouse to have, and you can get one, right now at Newegg for just $64. I know if mine ever dies, I'll be getting the same mouse again!